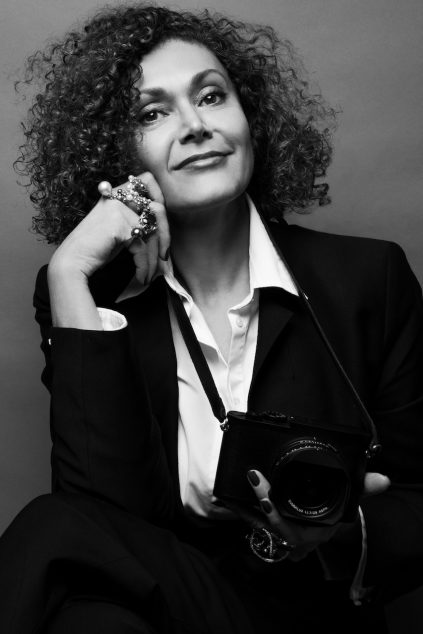 ALEXANDRA KREMER-KHOMASSOURIDZE
I was born in Moscow and spent my childhood in Baku, the capital of Azerbaijan.
Former citizen of the former USSR with Georgian, Azerbaijani and Russian roots.
Trained in the Paris photography schools EFET and IRIS, I hold a Master's degree awarded by the Ecole Supérieure de Journalism in Paris, where I was supervised by the celebrated war correspondent Yan Morvan.
Before that, I had studied fine art at the Azerbaijan State Academy of Fine Arts in Baku and at the Paris-based Institute National de Gemmologie.
My work has been showcased in exhibitions across the world, including Moscow, St Petersburg, outer Siberia, Baku, London and Paris, and has been published in the international press:
Paris Match, Le Monde, Le Figaro , Classica,World of Azerbaijan, Photo,Desillisionist,Hermitage, Diapason.
I am the author of the book "Life Music", presenting photographs of world famous classical musicians off stage, and of the thought-provoking photo project "Face of Freedom", which explores the first article of the Universal Declaration of Human Rights.
I am particularly capable and fond of challenging, extended, worldwide, conceptual projects.
This is because I love people and everything that is connected with human beings is always challenging, extended, global and conceptual.
I love asking questions and finding answers, listening to stories from around the world and relating them in my photographs.
Human beings with their thoughts, emotions and experiences are always the central focus of my photographs.
Whatever I am taking pictures of backstage of the world famous concert hall in Vienna, oil platforms in Azerbaijan or a pharmaceuticals factory in Vietnam -I want my photos to display romantic harmony, humanity, music and the emotions of the world around us.
This is how I see the world. It is how I take photos – finding the lyrical in banality and the beauty in ugliness.
As a photojournalist, I focus on my goals and not on the obstacles!
"All about Happiness…" was the title of my new photo project. Global, human and conceptual. As usual.
Everyone the world over – from wale hunters in Chukotka and monks in Bhutan to gondoliers of Venice – were searching for happiness.
Behind each sound and each "facade", i've been founding human beings who wanted to be happy.
I was traveling all over the world asking peoples «What is Happiness?»
Then…Pandemic came.
It changed my plans,But…. Im still working on the Happiness… be ready for Surprises!